Learn how to become a guitar teacher with these best tips from a real guitar instructor, so you can start helping others unlock their musical potential.
---
Guitarfluence is dedicated to improving your guitar skills and guitar education. To do this, we often partner with companies that share that mission. If you sign up or make a purchase through one of our partners' links, we may receive compensation—at no extra cost to you. Learn more.
Becoming a guitar teacher literally changed my life. It allowed me to be self-employed; it helped me learn so much about the guitar; it helped me understand pedagogy.
You not only learn a lot from being a guitar teacher. You also open up tons of doors and opportunities, and you'll develop more relationships than you could ever imagine.
I have 100s of guitar student contacts in my phone, many of which are no longer students, but are still to this day my friends.
You may start a band with your student. You may meet your best friend as a student. You just never know.
But enough chit chat, because you want to know how to become a guitar teacher, and that's exactly what I'm going to show you how to do.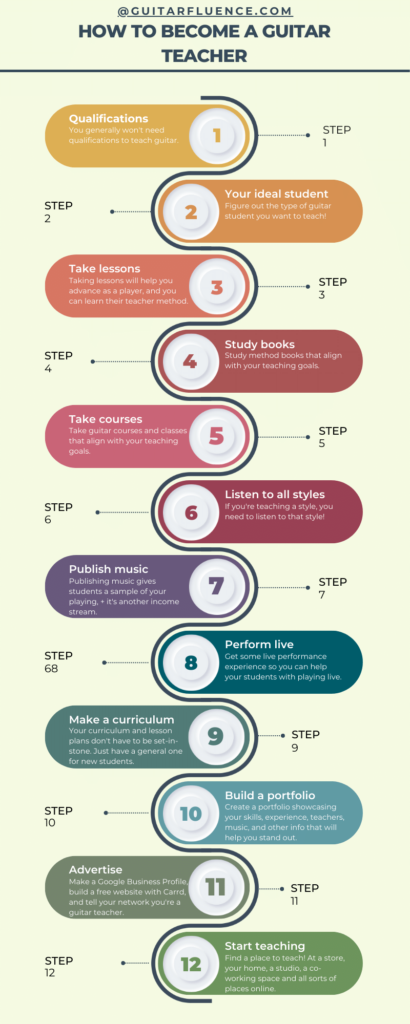 How to become a guitar teacher infographic PDF
Qualifications aren't necessary
As an aspiring guitar teacher, you may be wondering if you need qualifications. Generally, you don't need any qualifications at all! Sure, you'll need qualifications if you want to teach at a prestigious music school, but outside of that, you just need a teaching spirit and a love for the guitar!
And yes, if you're considering teaching guitar, then there's a good chance that you are a good enough player to teach. You only need to be one step ahead of your guitar student at the end of the day.
If you end up not being qualified to teach (in your eyes, or your student's eyes), you can take a break from teaching, learn some more things about teaching guitar, and start teaching again in a few months.
I will say, some jobs require a certain amount of teaching experience before they will hire you to become a guitar instructor, but they're not as common.
Figure out who you want to teach
As a guitar instructor, you can teach everyone who comes your way, or you can niche down.
Or, you can start with a niche, and then broaden your horizons over time.
A lot of this will depend on your location, whether or not you're teaching online or offline, and your personal preferences.
If you do decide to niche down, you can niche down by:
Experience level (beginner, intermediate, advanced)
Genre or Style (rock, jazz, metal, bluegrass, blues, etc)
Location
Listen to your guitar students
When you do get your first guitar students, you must listen to them.
You always want to be taking note of the questions they are asking because other students will eventually come along and ask those same questions.
Students will also let you know whether or not they like or dislike the material you are teaching. And if they don't let you know verbally, you'll likely be able to tell by their emotional cues.
And remember, your students are just people looking to have fun with an instrument. Don't push them too hard, and treat them the same way you treat your friends!
Lastly, listening to your guitar students can help you figure out the ideal type of guitar student for you, and will lead to the long-term, never-ending revising of your teaching methodologies.
Take lessons
Taking guitar lessons is not necessary, but it can help you out as a guitar instructor. Plus, it never hurts to learn from others. You'll always want to better yourself as a guitar teacher.
If you do decide to take lessons, let them know that you are learning how to become a guitar teacher. This way they can structure lessons in a way that helps you develop teaching skills.
On top of this, when choosing a guitar teacher, choose a guitar teacher that is attracting the type of guitar student that you want to teach! This way you'll be able to see their method books, their teaching methodology, and even meet other like-minded students.
I know it can be hard to suck it up and take lessons, but you don't know what you don't know.
Study guitar method books
I have a guitar student that I am working with, and we are currently on our 11th method book together.
Method books make it easy to teach and eliminate the need for a custom curriculum.
When it comes to method books, I would start with the Hal Leonard guitar tab method.
Of course, the method books that you use will depend on the styles and genres that your guitar students are wanting to learn.
The method book of choice will also depend on the type of guitar your student uses.
For example, if your student uses a classical guitar you may want to start with a classical guitar method book.
If they use an acoustic or electric guitar, you could start with almost any method book.
However, depending on the acoustic player you may want to go for the Hal Leonard acoustic tab method.
If they're an electric guitar player learning metal guitar, you may want to start with a metal guitar method book.
You can always play it safe by using the Hal Leonard guitar tab method books, though!
Take courses/ classes
Taking guitar classes and courses will help you to better understand the instrument, which will make you a better guitar teacher.
And there's no need to spend tons of money, because there are so many incredible free and inexpensive guitar courses online.
If you want guitar-specific courses, then I suggest looking into Jamplay or truefire!
My favorite country guitar course, taught by the mighty Johnny Hiland, is a Truefire course.
As for Jamplay, Jamplay is where I first started to learn lead guitar. This is the very first video I stumbled upon by them.
Both Truefire and Jamplay have YouTube channels you can get started with.
You can check out more of my favorite Guitar YouTube Channels here.
There are also course/ class websites that aren't guitar-specific, but still offer incredible lessons.
For example, you could learn from Skillshare. Skillshare has a bunch of different guitar and music classes that will benefit you.
Udemy courses may be up your alley if you have a specific goal in mind. Plus, there's no subscription on Udemy.
Lastly, I know I've already mentioned it, but you can use YouTube. Just remember, as a guitar teacher you need to do your due diligence and make sure you are learning from credible and reputable sources on youtube.
Some credible sources that I would recommend are Rick Beato, Ben Eller, Adam Neely, and Justin Sandercoe.
And lastly, but not least, I recommend my own YouTube channel 🙂
Learn a variety of musical styles
One of the most valuable lessons that I learned from one of my guitar instructors about teaching guitar is that you only need to be one step ahead of your guitar student.
With that in mind, it makes it much easier to learn and teach a wide variety of musical styles.
For example, if a guitar student comes to you wanting to learn jazz guitar, you'll need to know the basics, but you only have to stay one step ahead of them, especially if you're using a jazz method book.
Here are my big tips for learning multiple musical styles:
Learn harmony. Understanding harmony will make every style much easier to learn and understand.
Listen to three popular albums from different artists in the style you're learning. This will give you more knowledge on that style than the average person or guitar teacher.
Learn a song in that style. Learning a song is almost always the best way to get a feel for the techniques and chords you may encounter in the style.
As I mentioned earlier, you can niche down and teach a specific type of guitar student if you don't want to learn a wide variety of musical styles
For example, you might be a metal guitar fanatic, so you may only take on metal guitar students, and that's great!
This is exactly what Jason Stallworth has done. He's an awesome metal YouTube instructor.
One of my favorite guitar teachers, Derryl gabel, mostly caters to jazz fusion guitar players.
Levi Clay, author of my favorite country book, Country Guitar for Beginners, mostly teaches country guitar and music theory.
Record and publish your own music
Yeah, business cards are nice, but you know what's better than a business card? Music showcasing your skills.
And no, you don't have to be the most skilled guitar player on the planet to become a guitar teacher, but you at least need to know the basics, and the basics are very easy to demonstrate in your music.
Another incredible benefit of recording and publishing your music is the fact that it shows you are a hard worker. It's not a simple task to record music, and doing so will demonstrate ambition and a strong work ethic.
This not only looks good for your students but also looks good for anyone hiring you, assuming you are planning on working in a music/ guitar store.
It's also another potential revenue stream in your guitar teaching and guitar-playing business. And whether you like it or not, being an artist and a guitar teacher is a business.
Turning your music into an income stream
You can upload your work to Bandcamp and send people a Bandcamp link. If they listen to your music enough, Bandcamp will eventually ask the listener if they want to purchase your music.
It's kind of like a free trial, and who doesn't love a good free trial? Plus, everyone feels guilty when they click "No, I do not want to support this artist."
You can also use a service like Distrokid (Affiliate link) to promote your guitar/ music work on a wide variety of music and streaming platforms.
Don't overthink the recording process. You don't need to be a world class producer to make a basic album.
You can get started with a simple home recording setup using something like a Focusrite Scarlett.
Here's a video by Paul Davids, one of my favorite YouTube guitar teachers, that will help you get started.
Lastly, if you have no interest in recording your own music at this time, you can play on someone else's song/album. This takes the recording headache away from you and is also a great portfolio piece if you ever want to do session work.
Live performance experience
If you want to be a musician or a guitar teacher you need to get used to performing live!
Start by going to open mic nights. This will be a great place to network, and the crowds are small and generally non-judgmental. You can even start your performance by telling everyone that you are a guitar teacher. If you blow someone away with your mad guitar skills, they may become your guitar student.
Performing in a battle of the bands is another great way to gain live performance experience, plus earn some cash/prizes.
I won my local Battle of the Bands in 2017, and it was hands down one of the coolest experiences I've ever had.
Also, playing live with a band will force you to learn songs, song structure, rhythm, and most importantly how to collaborate with other musicians. I assure you these skills will carry over into your guitar teaching.
Live playing experience also shows confidence and collaborative skills to potential employers and students.
Lastly, you might eventually do live concerts with your students, so be prepared!
Make teaching plans and develop a curriculum
If you're learning how to become a guitar teacher you'll need to learn how to construct a curriculum.
Start by developing a basic curriculum from beginner to intermediate. Make sure it incorporates guitar anatomy, rhythm, basic music theory, easy beginner guitar songs, open chords, and the minor pentatonic scale.
Your curriculum will depend on your type of guitar student and their current playing level.
In the long haul, generally after the first few months of teaching, you will have a good idea of what is necessary for a standard guitar teaching curriculum.
After all, it's very easy to create a curriculum when your students are asking you a million questions! Don't forget to take note of these questions, and don't forget to incorporate them into your lesson plans.
Also, as I mentioned earlier, you can use method books to teach guitar, which will eliminate the need for a customized curriculum.
This is why it's so important to familiarize yourself with popular guitar books.
Lastly, having a curriculum to show your potential students and potential employer(s) could lead to the prospect turning into a student, and the employer converting you into an employee.
This is because your curriculum shows the potential student their roadmap to guitar-playing success, and shows the employer your organization skills as well as lesson plans for guitar students.
Build your portfolio
A portfolio is a great way to demonstrate your knowledge, skills, experience, and professional background as a whole.
Your portfolio will help you land students, and show your potential employer that you're a total guitar teaching pro.
Here are some ideas for a guitar teacher portfolio:
Your guitar teachers
Your favorite guitar articles
Your favorite guitar books
Guitar courses
Any formal education
Musical styles
Your music
Gigs you've played, and bands you've been in.
Blog posts, YouTube videos, or a podcast.
Your favorite music to listen to
Your products. Digital, physical, etc. This is a great extra income stream
Student success stories, case studies, and testimonials.
Advertising to become a guitar teacher
Everyone learning how to become a guitar teacher wants more students.
Luckily I have a complete blog post on ways to get guitar students.
Advertising doesn't have to be hard, though.
Here are my top tips:
Make a Google Business Profile
Making a Google Business Profile takes like 10 minutes. Watch this video and it will be as easy as playing an e minor chord.
This is the best way to showcase reviews, your teaching times, and manage your online reputation.
Build a simple website
You can build a website in 10 minutes with Carrd.Co. You can use the free version, but I recommend paying the $9 a year to use a custom domain. That's right, just $9 a year for a website with a custom domain.
Don't overpay for a website by using a platform like Wix or Squarespace. Afterall, your goal is to maximize profits, so don't let people sell you on overpriced guitar teacher courses and software.
Tap into your network!
Utilize your own network! You never know who might want guitar lessons. Plus, your personal network is very likely to give you referrals.
Getting referrals will be one of the top ways you find new guitar students as long as you are regularly networking.
Start teaching
There are a million ways to get work as a guitar instructor. Let's look at some ways so you can get out there and apply, and start teaching guitar!
First, think about your desired guitar teacher salary
I suggest you figure out your bottom line before you become a guitar teacher.
This means figuring out how much money you'll need to make to live off of your guitar teaching income.
Don't be too conservative with these numbers, because you want to meet a goal that you're really happy with.
Here's the average guitar instructor salary, from Salary.com.
Anyways, think about the numbers of students you need, and other revenue streams outside of teaching.
You can sell guitar books, you can sell beats, or you can pick up work as a session musician. Honestly, there's a stupid number of ways to make money from guitar and music nowadays. It's great!
Apply for work
I got my start at a local music store called No Limit Guitar Co. This is arguably the easiest way to get started, and music stores usually charge a room-rental fee based on the number of guitar students you have.
Online or offline guitar teaching?
I teach all of my students online at the moment, but it can take some time to get into teaching online.
Start by teaching locally, but still try to get some students online if that's your thing.
Here are some pros and cons of teaching guitar online.
Pros of teaching guitar online:
Low overhead costs
No commute
You can teach from anywhere in the world
Much easier to have a niche when you're teaching online
Cons of teaching guitar online
Very competitive
Marketing is a little tough online
You need a darn good internet connection
Outschool
The most underrated way to find work is through Outschool, a K-12 online education platform.
When looking into how to become a guitar teacher you'll generally think of looking for jobs, but with Outschool you can create a custom guitar program and the students will come to you.
And when I say you can create a custom class, I mean you can create that class on whatever the heck you want. You could have a class just for teaching the first five guitar chords. or you could have a class for beginner rock guitar. It just needs to be helpful and educational.
From home, a studio, or a co-working space
You can teach from home, but that can interfere with privacy. Despite this, it's the cheapest way to get started with teaching guitar.
2nd, you can teach in a rented studio, which is just the fancy name for a small commercial space. This is a great way to advertise yourself, and it gives you lots of privacy, but there's no doubt it will eat into your overall profits.
Lastly, you can look into renting a private suite in a coworking space. This is a great way to network, plus coworking suites are usually affordable.
How to become a guitar teacher conclusion
Now you know how to become a guitar teacher.
Want to know the best piece of advice I can leave you with? Start. Don't be afraid to jump into teaching!
Start telling people that you're a guitar instructor. Post about it on social media, and post videos of you playing guitar!
And if you really want to take off fast, make a Google Business Profile. Ask your music friends for some reviews, and boom. You'll be getting calls in no time.
Oh, one more thing: please don't forget to have fun! You're a guitar teacher, not a secret agent for the FBI. Act accordingly.
Rock on!