Looking to expand your guitar teaching business? Then check out these 15 ways to get more guitar students and build a strong student base.
---
Guitarfluence is dedicated to improving your guitar skills and guitar education. To do this, we often partner with companies that share that mission. If you sign up or make a purchase through one of our partners' links, we may receive compensation—at no extra cost to you. Learn more.
When I first started teaching guitar in 2017, I had no clue how to get guitar students.
After years of teaching though, I have learned many of the best ways to find new students and build up my reputation as a guitar instructor.
Now I'll share those ways with you!
This will be a lesson in marketing, networking, and business, but don't let that scare you! You don't need to be at Harvard grad MBA to learn the art of finding students.
Table of Contents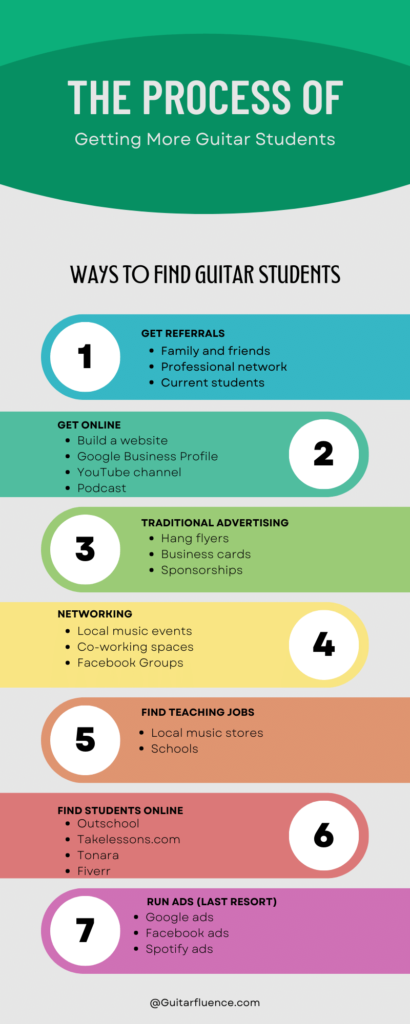 15 Ways to get guitar students PDF
This PDF is higher quality than the image above, and it's printable!
1. Referrals (word of mouth)
You know what they say: your network is your net worth.
And a bigger network = more referrals.
How do I know? Well, after teaching guitar for 7 years and building up relationships with lots of local musicians and online musicians, I can tell you that all of my recently acquired students are referrals.
This is why it's so important to tell your personal network, family, and friends, that you are teaching guitar!
Putting yourself out there will always lead to more work.
Make sure you maintain a good relationship with the students you get. This way you can continue to build a good reputation for yourself, which is vital, because a bad reputation will put you out of work!
2. Build your own website
A website is a highly underused strategy by most local guitar teachers, so you can set yourself apart from them by having one!
Your website acts as your "home base". This is where you can showcase your prices, portfolio, student reviews, music, and even your own products!
You can easily build a website for free using a platform like Carrd.co, and if you want to add a custom domain it's only $9/ year!
You could also try out Systeme.io if you're looking for more music marketing functions.
Potential students can find your website in advertisements, on your Facebook page, in your Google business profile, and Google search if your website is optimized for SEO.
The two most important things to remember here, though, are a contact page and an offer! A website is useless without a way to get in touch + an explanation of what you do.
3. Create a Google Business Profile
Whenever you look for a business on Google you've probably come across a Google business profile.
This is Google's way of displaying your website, reviews, and other business information for your local area.
You can set up a Google business profile in about 20 minutes. Here's a great video to help you out.
4. Start a podcast
Want to look like a real authority as a guitar teacher and player? Then start a podcast!
You can start the podcast by telling listeners that you're a guitar teacher. Let them know the name of your website or Facebook page, and let them know you're taking students on for guitar lessons.
Aside from being a great way to get more guitar students, a podcast can be a lucrative income stream.
Many podcast platforms have built-in advertisements so you can start earning money from day one. In the long-run, you can find sponsors for your show.
And seeing that you're a guitar player, there's a good chance you already have some decent audio equipment lying around your home, so you may as well start a podcast!
5. Flyers and other traditional advertising methods
I got my very first guitar student back in 2016 with traditional advertising. In particular, I hung up flyers at a local music shop.
The new student called me up and drove over to my parents' house for his lesson. I was 17 at the time.
He was a nomad that lived in a van. I told him he could have his first lesson for free, but he still gave me 13 bucks! $13 was all the cash he had in his wallet, and it's some of the most meaningful income I have ever made.
Business cards, door hangers, and local seminars are some other common local advertising methods for getting guitar students.
Just make sure you know your city's laws before you go ham with local advertising!
6. Outschool
Outschool is a K-12 online teaching platform.
You can get guitar students by setting up a class that caters to your ideal guitar student.
You could set up a class for brand new beginners, or you could set up a class for intermediate players, or you can set up a class based on a specific genre. The sky's the limit!
Look at other teachers' classes for inspiration, but don't let them intimidate you! You'll never know if Outschool will work if you don't try it.
7. Teach at a local music store
It's not always easy to find a job at a local music store. After all, most of them have only one or two guitar teachers, and most of the time those teachers have been there for years!
However, if you have a local guitar or music shop with guitar teacher job openings, I highly recommend you get your start there.
They will generally handle the marketing process for you, making it very easy to find guitar students.
I taught at a local music store from 2017-2021, and it was definitely one of the greatest jobs I've ever had.
And as long as they are an active local music store with a good reputation you will have no problem getting more guitar students!
8. Local networking
There are so many ways to network locally.
As a networking musician I recommend that you go to local concerts, local music events such as battle of the bands, and lots of open mic nights.
These are all great places to meet other artists, musicians, and guitar players. Let them know who you are, and let them know that you are a guitar teacher.
9. Co-working space
Coworking spaces have so many advantages.
You can meet and learn from other teachers/tutors, freelancers, and small business owners
You can rent commercial Space at an affordable price
You can help out other business owners, and they will send more business your way in return.
This is a more professional way to get referrals, no doubt, but it's one of the most underrated ways as well.
10. Facebook groups
Local Facebook groups in particular are one of the best ways to get guitar students.
For example, my wife is in a local Facebook group for moms, and the moms in the group are always looking for lessons for their kids and other family members!
Aside from looking for people searching for lessons in these groups, you can promote yourself in these groups with student success stories.
Don't just go into the group and say that you're a guitar teacher. Show them that you mean business!
11. YouTube
Promoting yourself on YouTube is one of the best ways to get guitar students and grow a guitar brand.
The only problem is it's a little tough to get into the YouTube game, and it will take some time for you to build a following there.
The great thing about YouTube, though, is the trust that you can build on the platform.
If you can build trust, then you can get guitar students.
And at the end of the day, you don't need too many students to make a decent living from guitar teaching.
So you could just use YouTube as a small part of your overall strategy for finding guitar students.
12. Sponsorships
Sponsorships are not the most common way to get guitar students, but they can work!
For example, there's a local nonprofit organization that runs sponsorships all the time in my area.
You could also work with local events, baseball games, or media brands to get sponsorships.
Here's an in-depth guide on sponsorships.
13. Teach on tutoring websites
Using tutoring websites like Takelessons.com is one of the fastest ways to find more guitar students.
These types of websites generally take a fee whenever you teach a lesson, but oftentimes don't have any upfront costs.
And yes, the competition is fierce on tutoring websites, but the traffic numbers are sky high, so you may as well make a profile on a few of them.
You can also try teaching on a freelance platform such as Fiverr, where you can create your own "gig-style" guitar packages.
Lastly, Tonara is a music-specific online teaching website. They get well over 100k monthly visitors, so you know you're in good hands.
14. Google Ads
Google ads are a long-term marketing strategy for attracting new guitar students.
In particular, I think running ads in your Google business profile is the best way to go about running a Google ad.
And the nice thing about a business profile is that Google gives you a $500 ad credit for free when you initially sign up, so you can try your luck with that credit and maybe you'll get some guitar students.
Seriously though, don't use Google ads until you've tried all the other ways to get guitar students.
Heck, if you're putting yourself out there as a guitar teacher, and you're not looking to build a massive guitar teaching business, then you will likely never have to run Google ads.
15. Facebook Ads
I recommend Facebook ads last because they're one of the most expensive ways to get more guitar students.
On top of this, it can be hard to learn how to run Facebook ads.
Despite these cons, Facebook ads can have a very high ROI.
If you can even attract one guitar student from Facebook, paying you $75/ month, you'll earn your money back and then some!
Conclusion: Get more guitar students today
There you have it, my best ways to get guitar students.
So what are you waiting for? Get out there and start finding students!
After all, if you can teach, and someone wants to learn, then some may say you have a moral obligation to show them "the ways of the strings".
Rock on, guitar friend.